This information should help identify when the photo was taken:
He enlisted Aug 31, 1861 (2 days after the birth of son Alford Bartow Caldwell) at Camp McDonald, the site of which is now in downtown Kennesaw, GA, just across Cherokee Street from the Old General Museum. Enlistment papers are signed by Capt Wm Boon, QQM, period "for the war". "A. Caldwell" with the same regiment appeared on a register of the Chimborazo Hospital No 2, Richmond, VA. Disease: Catarrh (inflammation of mucous membrane, chronically affecting nose and air passages). Admitted May 11, 1862 and returned to duty June 13, 1862. He must have come home on leave after the hospital incident, as Andrew Franklin Caldwell was conceived in August 1862, born in May 1863. Discharged from service February 21, 1863 and paid finally on August 13, 1863. He might have been injured in February 1863, as several family sources mention a leg wound that he continued to suffer from in later life. This wound is not documented with any hospital records.
At various intervals during the Civil War, Georgia's Governor Joe Brown gave orders that salt be supplied to wives and widows of soldiers serving the Confederate cause and in some instances widows having a son or sons in Confederate service. The "Salt List 24 July 1863" order records are categorized by situation, e.g. names of widows of deceased soldiers; names of wives of soldiers now in service; names of widows having a son or sons now in the service; names of families dependent on the labor of a soldier now in service for support; and names of disabled discharged soldiers. "Names of Disabled Discharged Soldiers" A. Colwell [p. 463]
| | |
| --- | --- |
| This is an image of the tintype scanned on March 10, 2001, and enhanced with brightness/contrast adjustment, gamma correction, and dodge/burn applied to clarify deteriorating parts of the image. | This is a slightly enhanced version of a photograph taken of the tintype in the 1970s. Note that the tintype has deteriorated significantly in the past 20+ years. |
| | |
| --- | --- |
| In order to clean the tintype, I removed the little gold frame. This is a scanned image without the frame. Note that Allison appears to be holding the sword with his right hand in this image. Tintypes were reverse images, and he is actually holding the sword in his left hand–the same hand that has 6 fingers. | This is an enlargement of the hand holding the sword. Note that he is wearing gloves, and there is a hole in the glove to allow his sixth finger to stick out. This should be reversed. |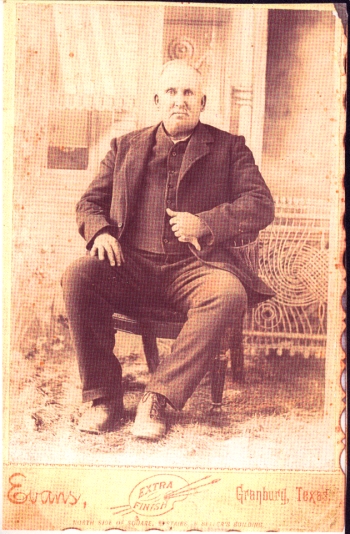 The original of this photograph is in the collection of June Holder, whose husband was a grandson of Ed and Lou [Caldwell] Holder. It was made in Granbury, TX at Evans [studio] "north side of square upstairs Sellers Building" somewhere between late 1883 and September 1901, when he was between 45 and 63 years of age. Note that Allison now has a mustache.