From the collection of the late Jessie Lu Caldwell Osborne in Lovington, NM.  Posted May 18, 1999 as a memorial to Julia West, grandaughter of Allison Caldwell, who died on May 16, 1999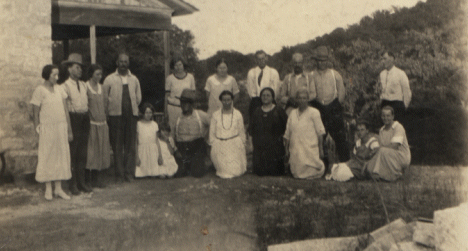 Please help us identify this family group!
Thoughts: Is the large man kneeling Allison Caldwell? If the two on the far left are Ethel and Frank Caldwell (and they are already married), then this photograph was made sometime between 1896 and 1901 when Allison died. If we assume that the photo was made about 1896, the only living children of Allison and Frances are Frank, Lee and Alfred Bartow. Mary Caldwell Osborne died in 1895, Sarah died in 1884, and Luster died in 1879 in Georgia. Of Jane's children, James Monroe would be age 25 in 1896 and already married to Sally White; Louisa would be 22 and married to Ed Holder; Ida would be 21 and married to George West; Newton Kimsey would be 18 and single; Julia would be 16 and single; young Thadd[e]us died in Arkansas or Georgia as a baby. Another assumption: If one of the women standing beside Frank is not Ethel and they are not yet married, then this photo could have been made earlier than 1896.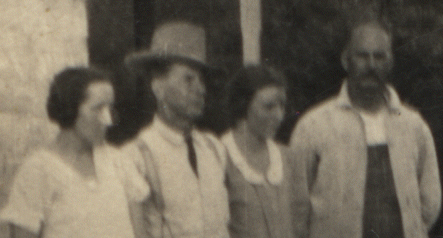 #1–Ethel Irene Wood?, Andrew Franklin Caldwell, unknown, Lee Caldwell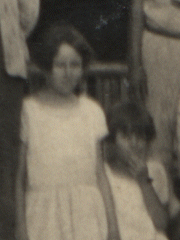 #2–

#3–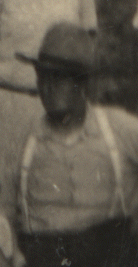 #4–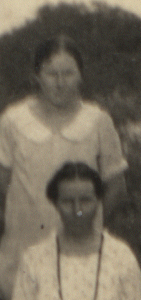 #5–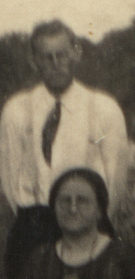 #6–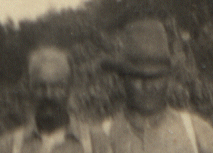 #7–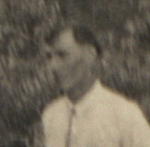 #8–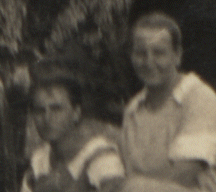 #9–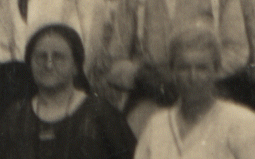 #10–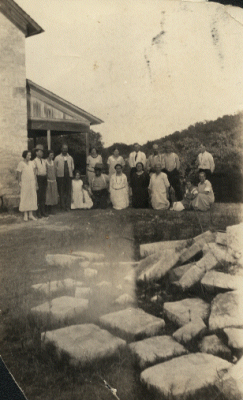 This is the whole photograph at original size.
Where was the photo taken?
See the large (2-story?) rock house?
Note the large white rocks out in front; they appear to be cut
or quarried such that they could be used for building.
Was this made around Paluxy? Or Falls Creek, Texas?
If you can identify any of the photographs, please contact Sylvia Caldwell Rankin, noting the enlarged photograph number, etc.