Letter from Ethel Irene Wood Caldwell to her daughter, Mrs. E. J. Windsor in Quemado, NM
3-cents postage cancelled at WIRT, OK on October 5, 1918 at 8am
Written October 5
My Dear Katie and Rastus
after some time will try to write you.  guess you have heard about your new sister-in-law.  they was rather in a hurry.  she was at Weatherford at Normal and wrote for him to come get her & he went.  they slipped off from her papa.  they married at Ardmore Monday Morning Sept the 30th.  we bought a nice little house next door to us and it is fixed up pretty nice.  I had it just ready when they come to go to living in.  she seems awfully well satisfied and he is working at 4 per day.  if he don't have to go to war everything would be all right — but I'm awful uneasy and it will hurt her so much worse now — you must write to them and us too.  she thinks so much of you.  
Bart is home today with a hot fever & headache again. do hope it is nothing serious.  when do you think about coming home on a visit.  do hope you can come before cold weather.  I am feeling very well now.  Aunt Geo is not well.  Juanita is coming home in a couple of weeks.  Jim Lemons is there or here rather with Geo & Jeff and he sent for her.  she ran away from Mrs. Duke. I haven't had a letter from anyone at Leedey in a month.  guess they are well.  the Girls got their yokes and of all the jumping around you ever saw they did it so you can guess how proud they was.  they are all crazy to see you all and do wish you could both come.  can't you?  well I must close & cook.  that's all we do eat eat.  now answer and write often.  Your maman.
Ethel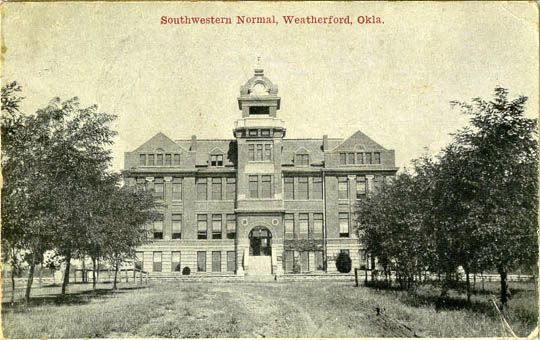 From Wikipedia: A normal school is a school created to train high school graduates to be teachers. Its purpose is to establish teaching standards or norms, hence its name. Most such schools are now called teachers' colleges.  Photo above was the one in Weatherford where classes started in 1903.
"She" was Sylvia Cordelia Rogers (17 July 1900 Indian Territory/OK – 31 July 1998 Abilene, Taylor Co, TX).  
And the groom was Ethel's son, Lorenzo Dow Caldwell (29 Sept 1899 Custer County, OK – 27 Mar 1934 Rosalia, Butler County, KS).
This photo below of Dow and Sylvia (and son Carol) made approximately 1925 in the Skelly Oil Fields of Kansas.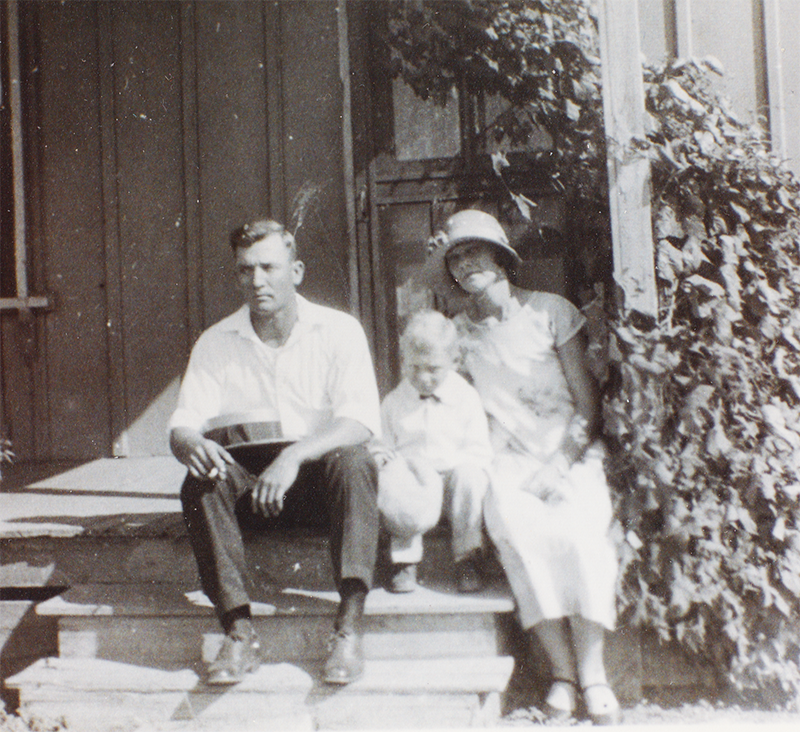 Special note:  A box of photos, old letters and momentos was shipped to me from my cousin, JoAnn Bennett Martin (grand-daughter of Dow and Sylvia Caldwell).  Among the things was this letter from Ethel Wood Caldwell transcribed above.  The box was received and opened — and the letter was read on Monday Morning Sept the 30th – 2013.  Exactly 95 years to the day after the marriage of Dow and Sylvia.
Sylvia Dow Caldwell Rankin