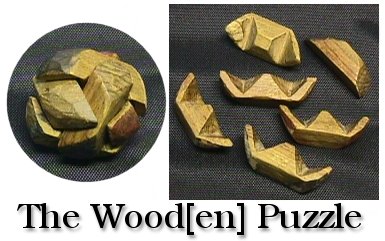 "As Granddaddy [George Washington] Wood would say, I was just a 'little button' when he came to visit my Grandmother, Birdie Loyd [his daughter], at the ranch northwest of Quemado in western New Mexico. I think I was about 4 or 5 then. He preferred to sit outside on the porch or on the wood pile. He never sat down without picking up a piece of wood and whittlin' a bit. If he couldn't find a piece of wood he would take out a small whet stone and touch up the blade to be ready for the next twig he found. The wood pile was an ideal place for him. He could pick out a pinion limb and set to whittlin' up a storm. The puzzle pictured above was carved for me on that last trip out. It was carved from a piece of wood that would have otherwise ended up in the cook stove baking a pan of biscuits or a *bean pie. Instead it became a keepsake for me."  By Jim Windsor.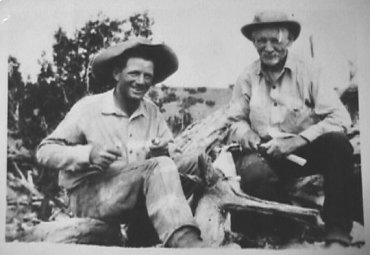 According to Jim Windsor: "This picture is Granddaddy Wood and my father, Jesse P. Windsor. I think it was taken in the early fall of 1933 but could have been 1932. They are perched on the wood pile at the Loyd ranch in NM. This was the trip that Granddaddy carved the puzzle. I don't know that he was working on it at this time but could have been."

Note: Jim was descended from George Washington Wood and Jessie Loucinda Cauble through their daughter, Ulmer Lee "Birdie" Wood [Born 14 April 1890 Granbury, Hood County, TX – Died 26 September 1980 Albuquerque, NM – Buried Lovington, NM] and William Adolph Switzer [born 8 September 1883 Hope, KS – Died 10 November 1910 Hammon, OK]. Birdie Wood 2nd marriage Charles Jackson Lloyd [Born 9 November 1878 Harrisonville, AR – Died 13 April 1955 Deming, NM- Buried Lovington, NM]. He was the son of Katherine Modean Switzer and Jesse Perry Windsor. Jim, who was born near Quemado, NM 10 January 1928, lived in Clovis, CA until his recent death.